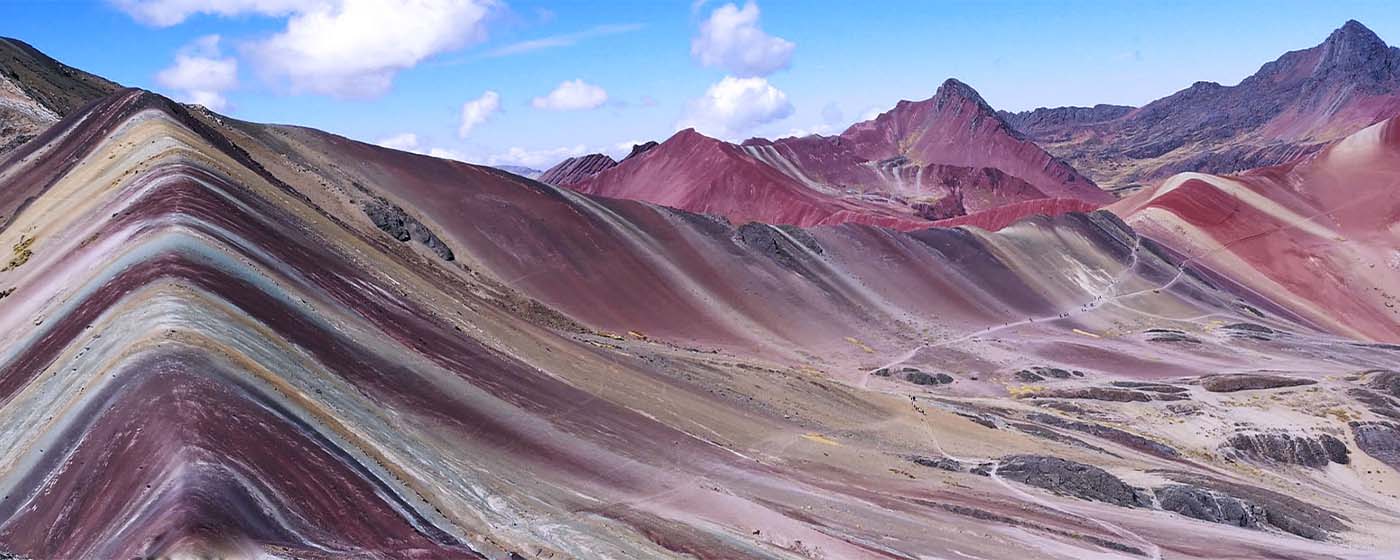 AUSANGATE AND RAINBOW MOUNTAIN TREK 3 DAYS
Color Mountain Peru and Ausangate Trek
Hike the beautiful Andean mountains Ausangate and Rainbow Mountain
Ausangate and Rainbow Mountain offers you an unforgettable experience in just three days. If you like to get off the beaten tourist track and are keen to explore some rural and unique parts of the Andes, this trek is for you. Book now as a couple, with a group of friends or as a family. Let yourself be enveloped by this surreal landscape in the Andes of Peru in the company of the best adventure travel specialists in town. You will travel through desert trails and deep valleys on this route. You'll enjoy the company of herds of alpacas and llamas as you gaze out over crystal clear lagoons at the foot of the towering sacred Ausangate mountain. Not only that, but you will also challenge your physical endurance to reach the majestic Rainbow Mountain, a destination that so many travellers wish to visit. Likewise, you can already imagine it: Walking between glaciers and arid landscapes to suddenly see a mountain covered in many different colours appear in front of you. It's not a dream; it's a real natural wonder! You will also be able to get close to the small communities in these remote regions of Cusco and see how they go about their daily lives and live off the land. So, get ready for an incredible journey on a route not yet saturated with travellers.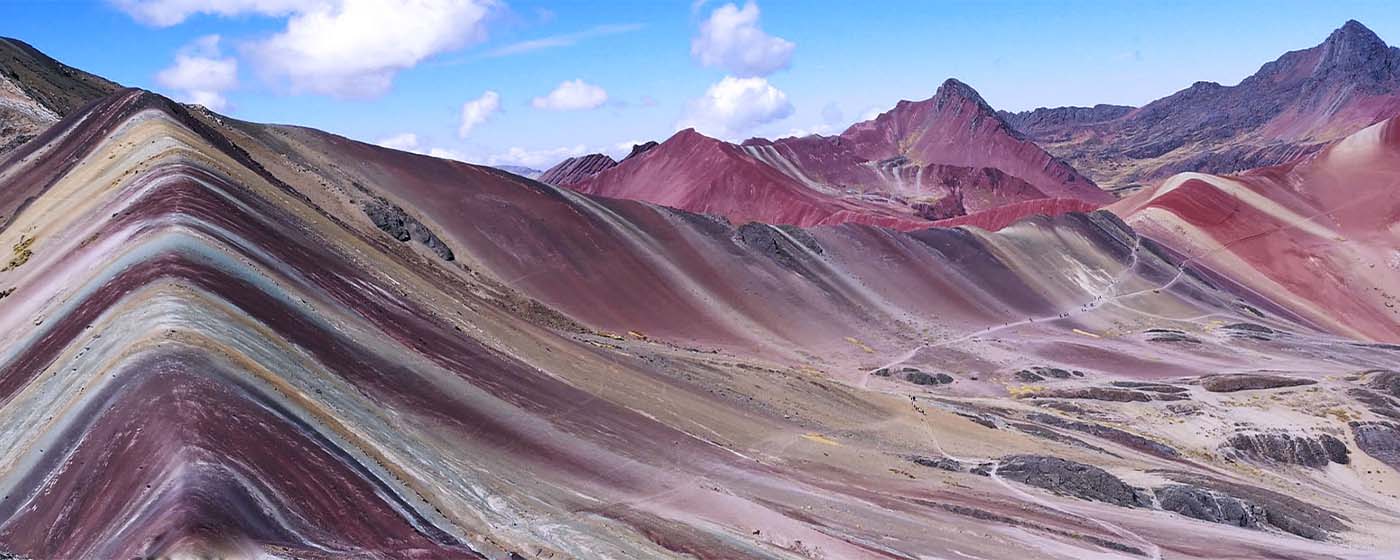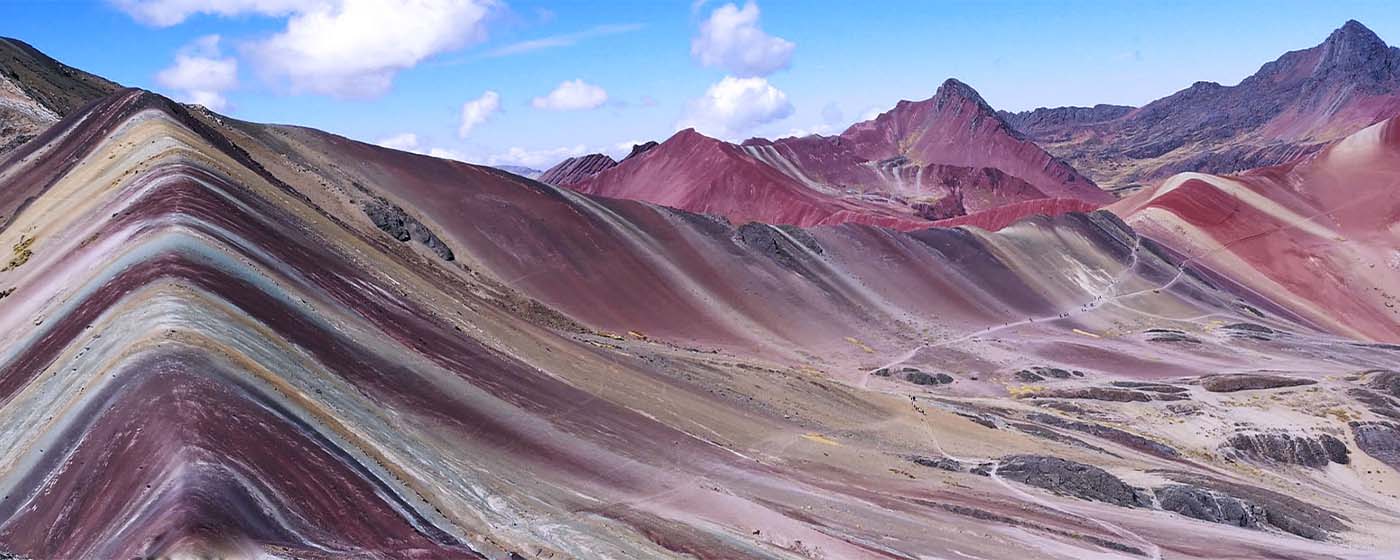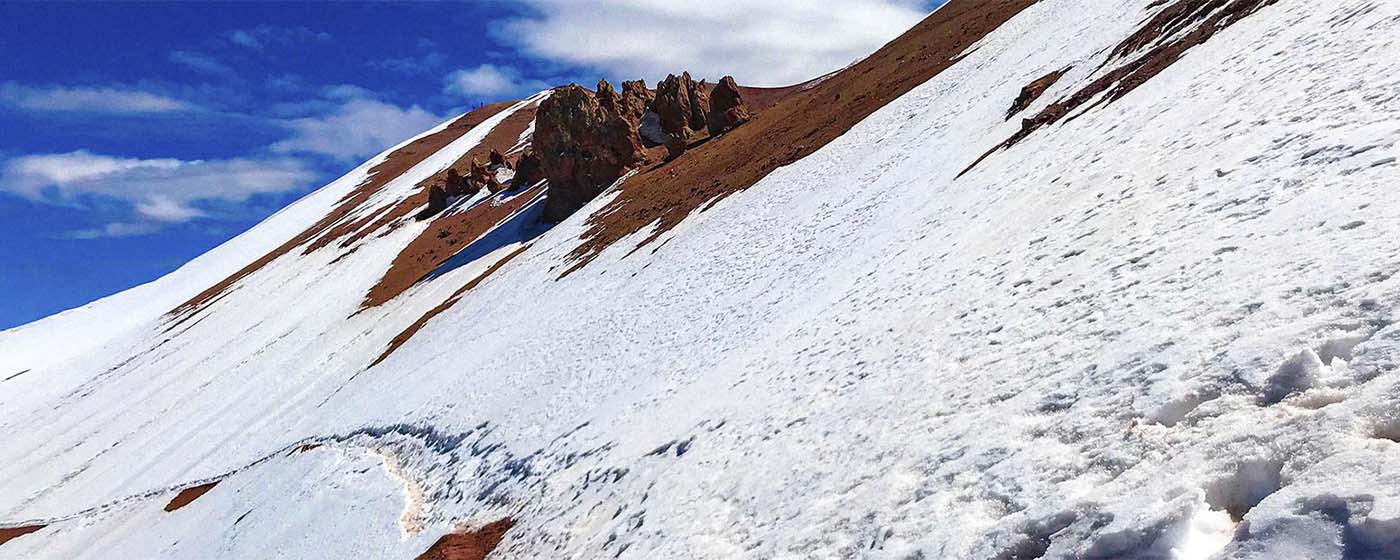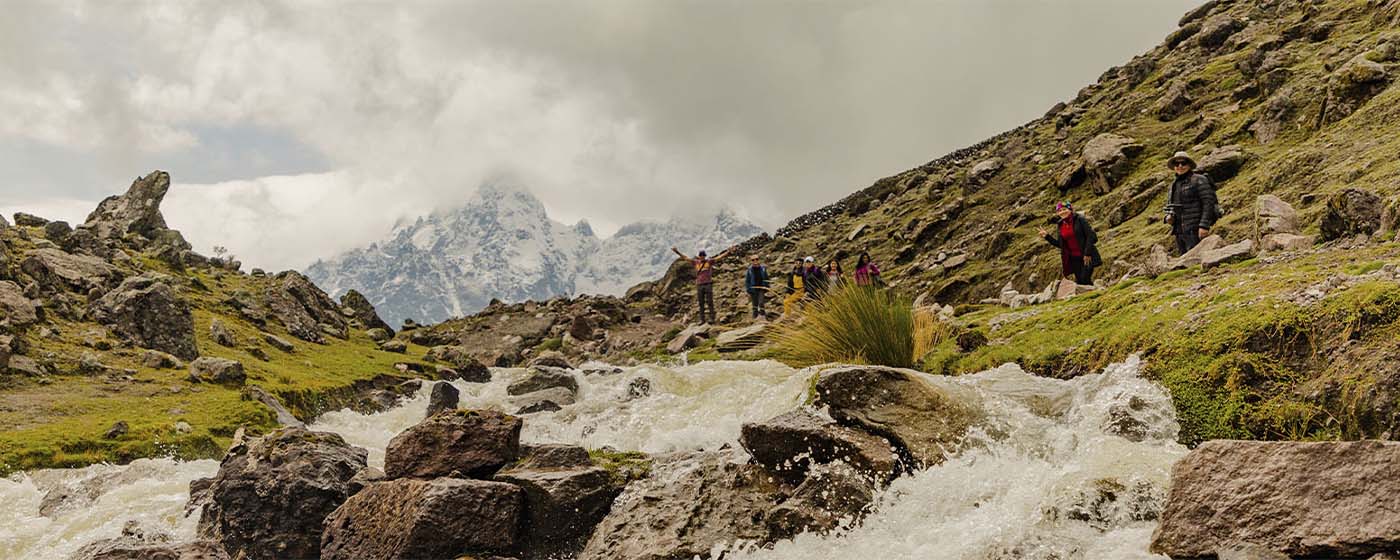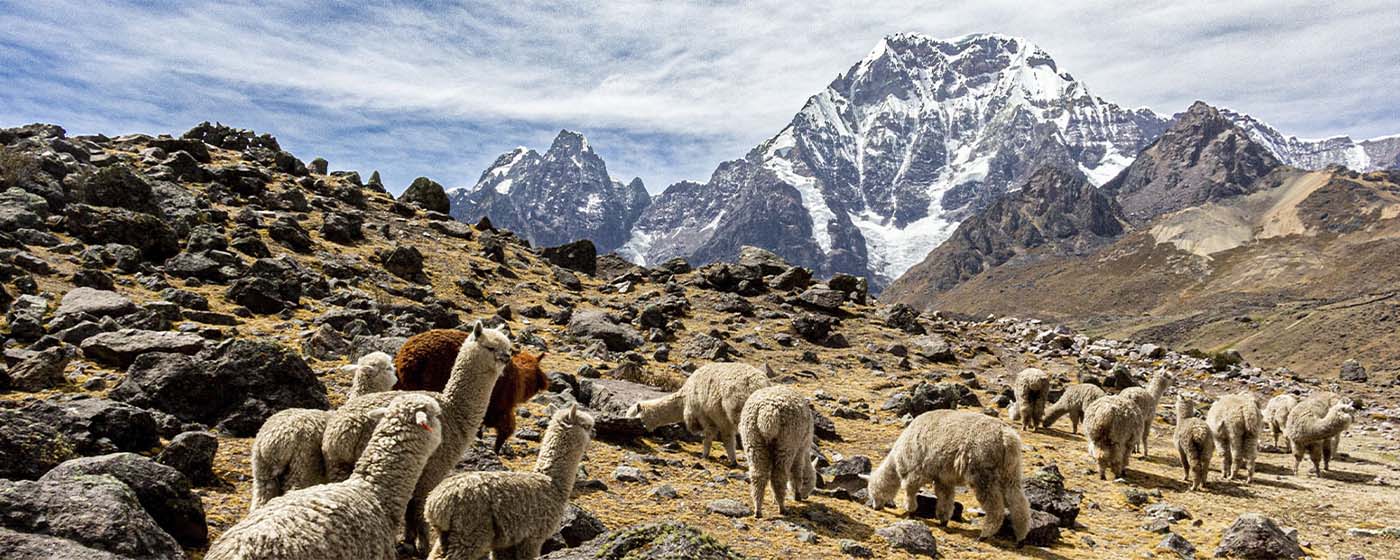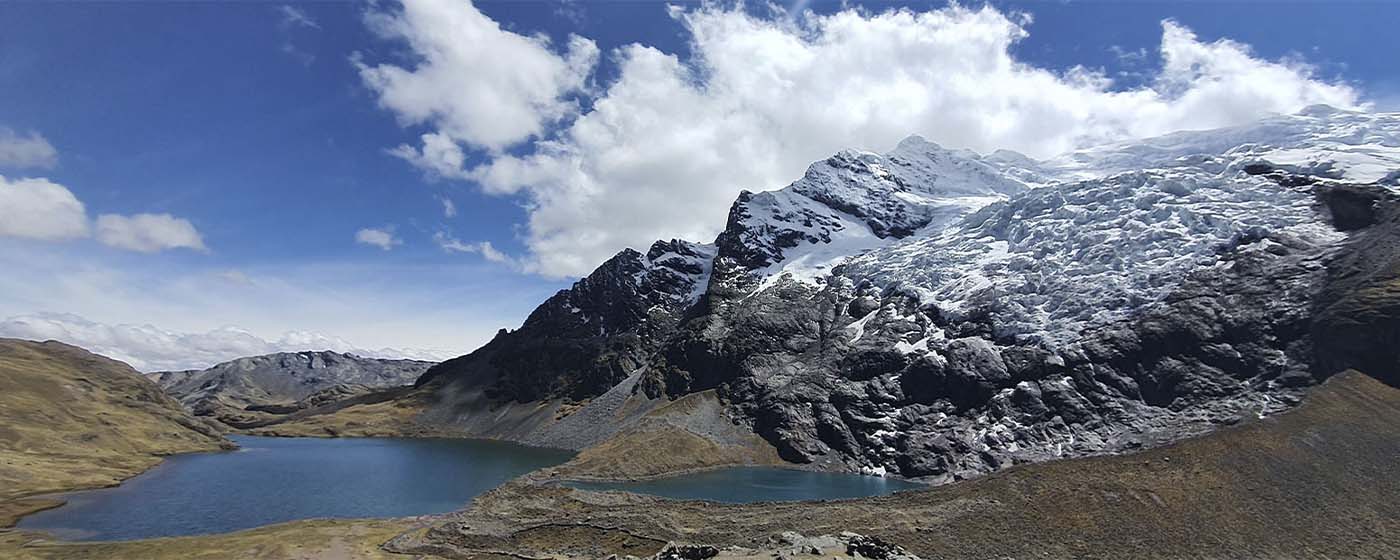 TRIP DETAILS
DAY 1 CUSCO| UPIS - ABRA ARAPA - HATUN PUCACOCHA
Marvel at the majesty of the Ausangate glacier. Your exciting experience begins at 5:00 am. We will pick you up from your hotel and transfer you in our private transport for 3 hours to the starting point of our trek in the small village of Upis. There you will enjoy your first breakfast prepared by our talented chef, and gaze in wonder at the incredible scenery. This meal will give you all the nourishment and energy you need to start walking. Soon after, we will set off and the adventure will begin. We will gradually ascend for 3 hours to the place where we will have lunch. During this part of the trek, we will be able to observe the majestic Ausangate Mountain in the distance, so be sure to have your camera handy. Our team will be waiting for you at our first stop with a hot herbal tea before you indulge in a delicious lunch. You will have time to enjoy a short rest and recuperate before continuing the day's trek. After lunch, we will begin a two-hour hike uphill to Arapa Pass (4,800 m /15,748 ft). We will then descend for three and a half hours to the Hatun Pucacocha lagoon, where our campsite is located. On the way, we will also appreciate the Yanacocha Lake, you will be at the very foot of the mighty Ausangate Mountain! You will be amazed by the size and beauty of this icy peak. Once at the camp, you will be able to have a hot chocolate or a coffee, and a little later, dinner will be ready. It will then be time to retire to bed for a well-deserved rest.
DAY 2 HATUN PUCACOCHA| ABRA PUCA - ANANTAPATA - ABRA WARMISAYA - SURINECOCHA
Glorious glaciers and splendid lagoons, this morning we will wake you up with a hot cup of coca leaf tea to help you acclimatise and start the day in the best possible way. Did you know that this leaf has been used for centuries for the same purpose? As soon as you open the tent, you will see the magical lights of the sunrise over the huge glacier glistening and sparkling in the sunlight. We will then enjoy a delicious and nutritious breakfast to help us on our way. Our hike will begin with a two-hour climb to the Puca Pass (4,8840 m /16,002 ft). Along the way, you will see an incredible eroded mountain, beautiful high Andean valleys and, if you are lucky, the majestic flight of the condor, the largest flying bird in the world. You will also experience the beauty of several glacial lakes, such as Huchuy Pucacocha and Hatun Pucacocha. Be sure to capture some memorable photos of these picturesque views. A little later, we will descend for an hour and a half to Anantapata, our lunch spot, for another delicious meal and then ascend for two hours to the Warmisaya pass (4,989 m /16,365 ft). From here, you will see the sacred mountain of Ausangate from a new angle and the Rainbow Mountain, as well as the endless Vilcanota mountain range. We will then descend for 1 hour to Surinecocha (4,812 m/ 15,768 ft), where our camp is located. Upon arrival, we will be greeted with a hot drink to warm us up. Before a well-deserved night's rest, you will enjoy dinner prepared by our chef and his assistant. You are sure to be amazed at the delicacies they prepare so high up in the mountains.
DAY 3 SURINECOCHA| RAINBOW MOUNTAIN - RED VALLEY- LLACTO - CUSCO
Gaze in awe at the stunningly beautiful Rainbow Mountain. Today another early start awaits you, as our hike reaches its climax. After an energizing breakfast, we will head out to explore the famous Vinicunca or Rainbow Mountain. We will start ascending for two hours to the pass located at 5,095 m/16,732 ft. From here, you will get a beautiful view of the spectacular Rainbow Mountain, which will surely feel like you are in a dream as you gaze upon this creation of Mother Nature! Our guide will explain why these mountains are so special. Their stunning display of colours is due to the sedimentary layers of minerals that were exposed by erosion. Remember that this type of phenomenon can only be seen in two places in the world: Peru and China. Use your time to connect with the energy of the mountains and enjoy this truly unique landscape. After spending a lot of time gazing at the surreal landscape, we will hike for an hour to Llacto, where a tasty lunch awaits us. We will end our day and our epic adventure with a 3 hours ride in our private transport to drop you off in Cusco.
WHAT IS INCLUDED?
Pre-departure briefing, presented by your tour guides
Duffle bag to get ready 7 kilos of your personal belonging, be carried by horses
Weight Allowance: 7 Kilograms per trekker (weights to be carried by horses)
Transportation to Upis, the starting point of the trek.
We Will take you back to Cusco
English/Spanish speaker professional guide
Cook and cooking equipment
Horses (to carry the tents and cooking equipment)
Entrance ticket to Ausangate trek
Entrance ticket to Rainbow Mountain
Meals as mentioned in the itinerary
Vegetarian food available on request with no extra charge
First Aid equipment and Oxygen bottle for emergencies Personal
WHAT IS NOT INCLUDED
Sleeping bag (you can rent one from our company if you do not have your own)
Walking Sticks (you can rent one from our company if you do not have your own)
Last dinner
Personal Hiking Clothing and gear
Travel Insurance
Tips for our staff: Tipping is Customary on any excursion to Machu Picchu.
Additional costs or delays beyond our control
Backpack (the smaller the better)
Water storage: a water tank such as Camel bags is recommended, but enough for at least 2 liters.
Comfortable hiking boots (light with good soles)
2-3 T-shirts
2-3 hiking pants
3 sets of underwear.
3 sets of hiking socks
1 thick and soft scarf
1 warm jacket: it gets very cold at night.
1 rain jacket and pants
1 sun hat
1 wool hat
Headlamp: essential
Waterproof gloves (even if they are ski gloves, take them)
Comfortable camping shoes
Hiking boots
Waterproof jacket/rain poncho
Quick dry towel. 
Battery charger: ¡no place to plug it in while trekking!
Large plastic bags: to help organize and keep clean and dirty.
Sleeping bag: down bags are recommended for -15 °C at least.
Sunscreen
Facial moisturizer
Alcohol gel
Moist towelettes
Toothbrush and toothpaste
Toilet paper
sunglasses
Swimsuit for hot springs
Personal medication
First aid kit: Band-aids.
HAVE QUESTIONS?
EMAIL US
sales@lifexpeditions.com
If you are booking for a group of more than 6 people, please contact us directly on WhatsApp at +51 970811976 to take advantage of our exclusive special offers.