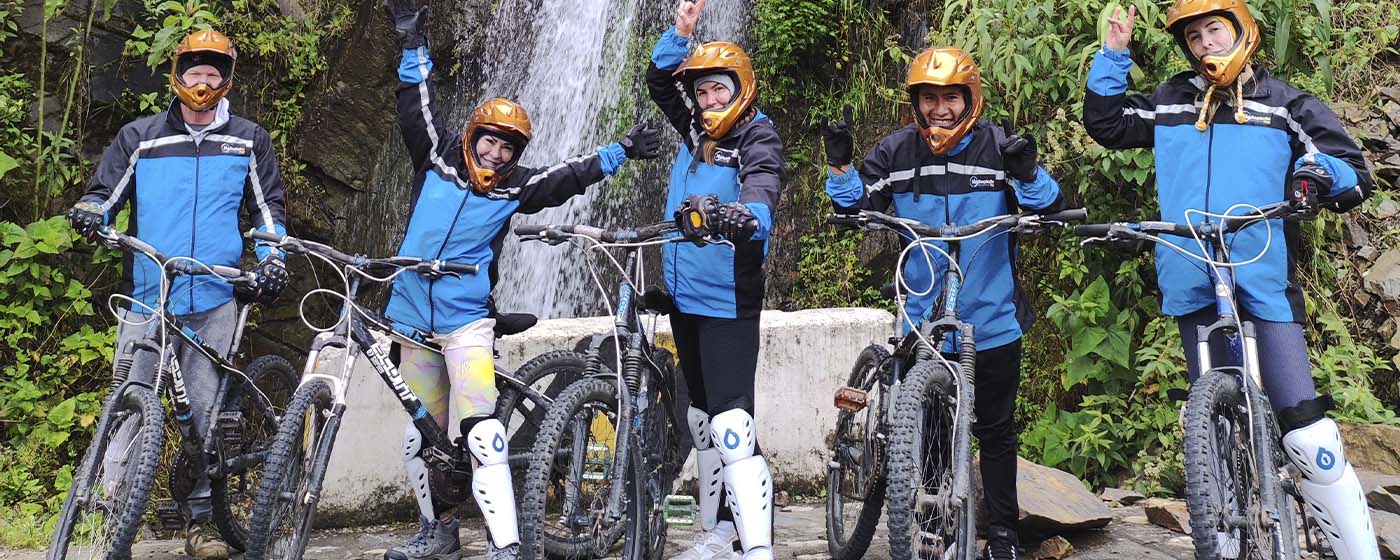 INCA JUNGLE TO MACHU PICCHU
-
Are you an adrenaline junkie looking for a unique way to explore the magnificent Machu Picchu? Have you heard about the Inca Jungle Tour and its many wonders?
Inca Jungle Trail to Machu Picchu is top-rated as the optimal alternate path to Machu Picchu, including a plethora of daring activities along the way. Not only that, Inca Jungle Trek is one of the least expensive excursions in Cusco and accommodating for all adrenaline junkies. During this journey you are offered the opportunity to partake in mountain biking, white water rafting, trekking, have a soak in the hot springs at Santa Teresa's Cocalmayo, take part in a coffee tour to taste authentic Peruvian coffee, zip line across mountains with vertikal zipline company and finally experience Machu Picchu.
Machu Picchu
We are concluding our trip to Machu Picchu on a positive note after having hiked through the Andes at an altitude higher than 4300m and treasured three days of exciting experiences. Here we are in this amazing Inca citadel. Evidently, this journey will remain imprinted in our minds forever.
Mountain biking
We begin our bike ride from Malaga Pass, located at an elevation of 4350 meters (14271.65 feet). Here the temperature is freezing, nestled within the Vilcanota mountain range. Our 55 kilometers of descent leads us to Huamanmarca Inca Ruin, 1570 meters (5150.919ft) above sea level - incredible isn't it! It's here that the climate changes drastically; temperatures ranging from 28° to 35° Celsius (82.4°F to 95°F), transforming our world into a tropical jungle and signaling the start of the Amazon rainforest.
White water rafting Experience
Perfect temperature 32°c 89.6° Fahrenheit white water canotage. here we go!
There is no place more perfect for this adventure activity than in the Peruvian jungle with spectacular landscapes and lots of adrenaline. With all the international safety regulations
Trekking Classic inca Jungle
After walking for approximately 7-8 hours with breaks and the tour guide's explanations, the second day involves a 14 kilometer journey with an average level of difficulty. The gem of this excursion is getting to observe the Inca trail and vast viewpoints, before ultimately arriving at the calming warmth of the springs of Cocalmayo. It's a splendid end to an extended hike!
Cocalmayo hot springs
The renowned thermal springs at Cocalmayo offer a wondrous atmosphere amidst rolling, vibrant green hills and the glorious Vilcanota River. There are four magnificent pools with various water temperatures where one can go for a swim; they are all generous in size.
Coffee tour
Don't miss this ideal opportunity to taste premium Peruvian coffee from the Santa Teresa Cusco area. It is artfully prepared by grower Dwight Aguilar, a two-time Cup of Excellence winner from Peru in 2018 and 2021.
Vertikal zipline
Go on the most ambitious zipline ride in Peru! At over three kilometres, it includes fourlines that go from mountain to mountain over the Sacsara River and a bridge. Challenge yourself with various styles such as Condor Flight and Monkey Style. Are you brave enough?
Where do participants of the Inca Jungle stay overnight?
For our first night, we lived with a family and got to understand how they live on a daily basis. We also had the opportunity to take part in the gathering of coca leaves and coffee beans alongside cultivate local plants including passion fruit and pineapple, that was simply priceless. Having freshly squeezed juice from the fruits that we picked made the experience unforgettable.
Home stay – Lodge - Hotel
What activities are included on the Inca Jungle Trail?
This journey includes these fun activities:
Mountain biking
White water rafting
Home stay or lodge
Trekkig on the inca trail
Hot spring
Zipline
Machu Picchu
How long does it take to complete the trail?
It is strongly suggested to spend four days in order to have enough time to do all the exciting activities, but it is possible to complete it within a three day period, however some activities may then have to be removed. There will be no difference in price whether doing the excursion over a three or four day period.
Is the terrain difficult, and am I able to make it?
The challenge is not too difficult for anyone to handle, although some preparation and physical capability are necessary for executing these recreational activities.
What are the age restrictions for Inca Jungle Trek?
Although there is no age limit, it is suggested that participants be at least 8 years old or older; it all depends on how bold and daring you feel!