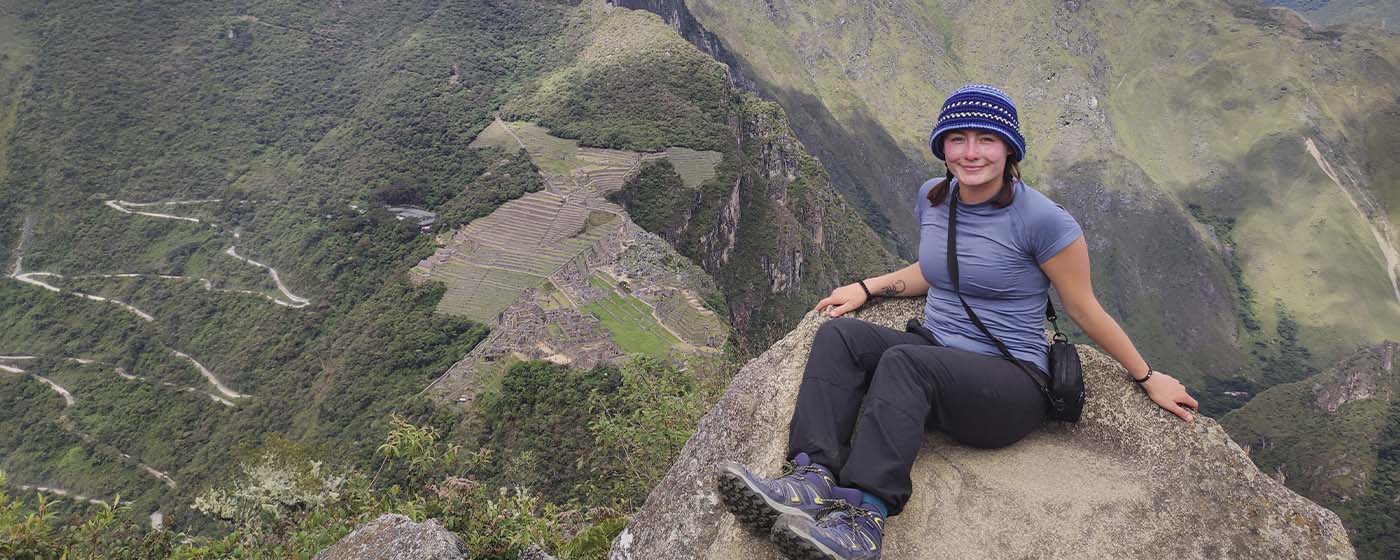 HUAYNA PICCHU
WAYNA PICCHU
HUAYNA PICCHU
Huayna Picchu is a remarkable mountain situated in Peru, right above the long-standing Incan settlement of Machu Picchu. It stands majestically at a height of 2,720 meters (8,923 feet) from sea level, delivering stunning views of the surrounding area. Adventurers can reach the summit by taking an arduous trail. On the route up, explorers can take spectacular photos of Machu Picchu's ruins and the encircling mountains.
Huayna Picchu is a popular destination for hikers, as it offers a challenging climb with stunning views. The trail is steep and can be dangerous in some parts, so it's important to take safety precautions when hiking up the mountain. It's also important to note that Huayna Picchu has limited access and requires a permit to climb.
Huayna Picchu Hike
Hiking up Huayna Picchu is an unforgettable experience. The trail is steep and can be challenging, but the views from the top are worth it. The hike takes around two hours to complete and offers stunning views of Machu Picchu and the surrounding mountains. Along the way, hikers will pass through lush vegetation, cross over ancient Incan ruins, and take in breathtaking panoramic view.
What to Expect About Huayna Picchu
The Huayna Picchu hike is a stunning journey through the jungle-covered mountainside of Peru. It's a challenging but non-technical trail that takes you up the mountain on ancient Inca stairways, amazing views and fit hikers can reach the summit in an hour or less. The steepest staircases are at the end of the hike, near the peak, so be sure to save some energy for those last few steps! Due to its popularity, only 400 hikers are allowed per day and spots must be booked several months in advance.
Warning and caution about Huayna Picchu Mountain
The Huayna Picchu hike in Peru is a must-do for any traveler visiting Machu Picchu. This challenging and sometimes scary trail takes you to the top of Wayna Picchu, the iconic mountain behind Inca city of Machu Picchu. At the summit, you get to see original Inca buildings and breathtaking panoramic views. Despite its nickname, 'Stairs of Death', due to their steepness and narrowness, there have been very few accidents or deaths here over the years.
Before embarking on this journey, it's important to be prepared with the right gear and knowledge. Make sure you have sturdy hiking shoes and plenty of water as well as snacks for energy. It's also important to know your limits and take breaks when needed. Be aware of your surroundings at all times and don't take unnecessary risks while climbing up or down the stairs. With proper preparation and caution, you can enjoy a safe yet thrilling experience on this incredible hike!
In the rainy season it is not advisable to climb the mountain of Huayna Picchu, the water from the rains makes the Inka trail slippery. January to March is the worst rainy season.
Entrance times to Wayna Picchu
The entrance ticket to the Huayna Picchu mountain has to be bought in Cusco or we can also do that job for you and you don't have space problems, if it is for the high months like June or July you should book at least 6 months in advance.
Taking in Huayna Picchu can be an incredible experience, and the period of day you decide to go makes a significant impact. If you go in the first group 7 am, it is cooler during the dry season when temperatures can become very hot after the second group departs. Yet, there is a possibility you may come across fog in the early mornings that could obstruct the view from Huayna Picchu's summit. But if the weather is favorable, viewing it at sunrise will be spectacular.
Departure times 10am slot offers its own advantages. Passengers who aren't trekking typically get off a train in Cusco around 11am, thus making this preferable if you're trying to avoid crowds. It also allows you more time to recover and prepare for your climb prior to starting out. In the end, it comes down to personal preference but it is important to be on time if you desire an optimal experience.
Access Requirements for Climbing Huayna Picchu
Huayna Picchu has limited access and requires a permit to climb. Permits can be obtained from the Ministry of Culture in Cusco, Peru. It is important to note that permits are limited and should be requested at least two months in advance. Additionally, visitors must adhere to the regulations set by the Ministry of Culture.
visitors check in at the control gate, each with their passports and entry Huayna Picchu tickets and sign a list when entering and leaving; this is to make sure that you are leaving and nothing has happened to you on the way. You need good physical condition, good health, no fear of heights and a lot of energy.
Popularity of Huayna Picchu Among Hikers
Some years ago Huayna Picchu was not so famous so the entrance was free, but it was for the first 400 people who arrived at the entrance gate of Machu Picchu lost city, and the controllers of Machu Picchu Picchu gave you a stamped paper which was the entrance; at the beginning it worked well, but later it was a problem, thousands of people competing for 400 spaces.
Huayna Picchu trail is a popular destination for hikers due to its challenging climb and stunning views. The trail is steep and can be dangerous in some parts, but the reward of reaching the summit is worth the effort. From the top, visitors can take in the majestic beauty of Machu Picchu and its ruins, as well as the Vilcabamba mountain range.
Huayna Picchu vs Machu Picchu Mountain
Huayna Picchu and Machu Picchu Mountain are two iconic mountains located in Peru, just above the ancient Incan city of Machu Picchu. While both offer stunning views of the surrounding area, they differ in terms of height and difficulty. Huayna Picchu elevation at an impressive 2,720 meters (8,923 feet) above sea level and is accessible by very narrow and steep stairs, but it is only an hour's climb.
Machu Picchu Mountain stands at 3,083 meters (10114.83) above sea level the access is an Inca trail of two hours hike time uphill and another 2 hours downhill hike time approximately, in some places the paths are narrow but nothing compared to Huayna Picchu.
Wayna Picchu Entrance Ticket Cost
The entrance ticket to Huayna Picchu is 70.USD and it provides access to Machu Picchu citadel and circuit 3. Buying only Huayna Picchu or Machu Picchu Mountain admission are not options. To ensure an enjoyable trip to both destinations, you must reserve the most convenient tour time available. The Classic Inca Trail 4 days 3 nights is a popular package that starts in Cusco and concludes in Machu Picchu. Upon completion of the four day journey, hikers will reach Sungate at approximately 6:30 am, then march one more hour until reaching Machu Picchu where the Inca Trail wraps up.
The admission price may appear costly, but it includes entry to both the Huayna Picchu mountain and the Machu Picchu citadel while permitting you to experience a once-in-a-lifetime occurrence.
Embark on an unforgettable journey with Huayna Picchu Hike! Climb up the legendary trail and be inspired by the breathtaking views of Machu Picchu.